How long have you been doin' what you do?
Cocopomme all started about 2 years ago, although I've been making jewellery for years!
What made you want to open up shop?
I love making jewellery and I made so much I thought it would be a good idea to open up an online shop. The website launched in August 2013 and since then I have had such an amazing response. I literally cannot wipe the grin off my face when I get feedback about the jewellery!
How did you come up with your shop name?
Mmm cocopomme!!! Well I make this absolutely wicked desert which is like an upside down apple pie with chocolate sauce and a bit of orange I call it cocopomme. What better name to name my shop after than something so delicious and something I make about once a week :)
What is your all time favorite piece you've made?
My all time face piece is the sherbet lolly necklace. I LOVE it, I just think it looks so realistic, whenever I step out wearing it everyone always comments on how different it is.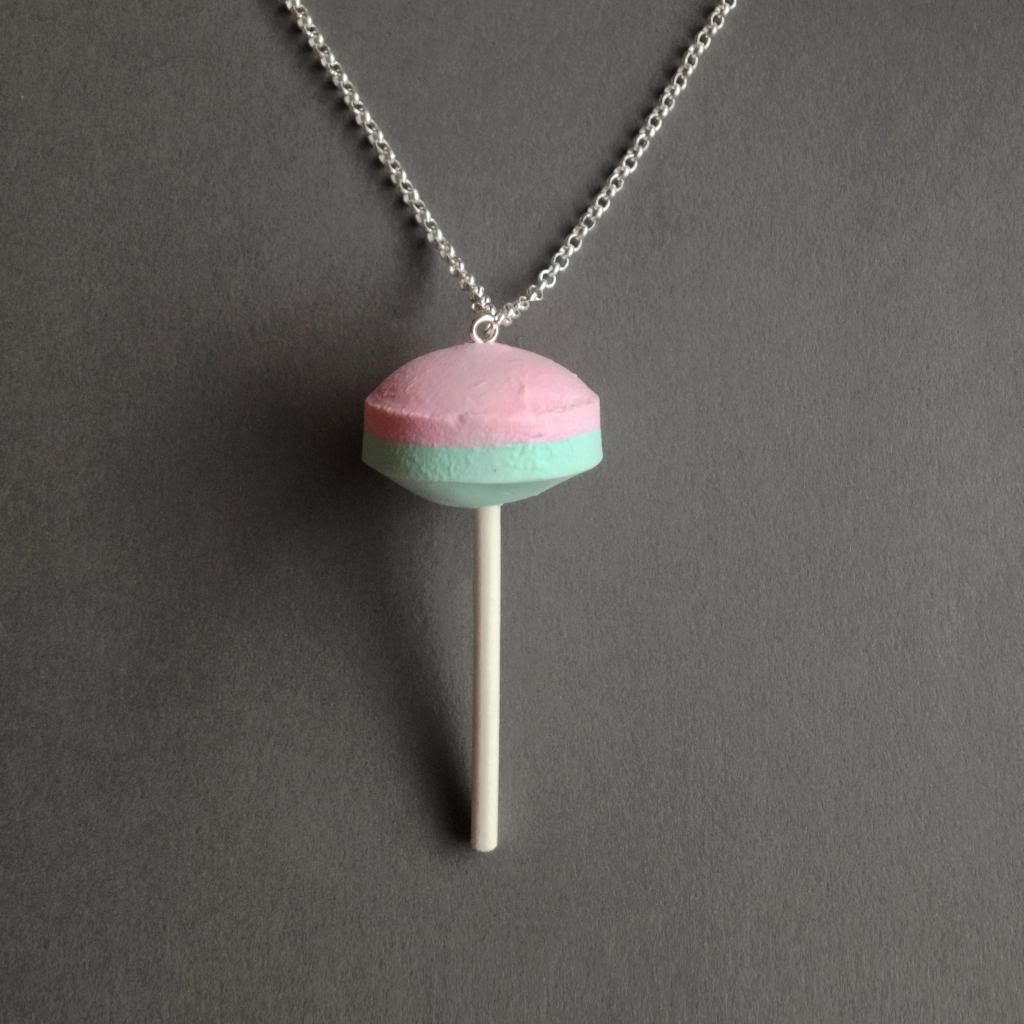 If you could have another talent, what would it be?
I've always wanted to be able to sew! I set myself a new years resolution that I would make a pinafore dress this year. There's a TV show on called The Great British Sewing Bee and every time I watch it i get a pang of guilt that I haven't started it yet! But.... Every time I go to drag out the sewing machine I seem to get my jewellery kit out instead. I guess thats not a bad thing!
Do you prefer to listen to or watch something while you work?
Definitely listen to music, I cant watch anything whilst i work its way too distracting. I seem to get into a rhythm with music on.
If you could be any fictional character, who would you be?
I always wanted to be Bubbles from the Power Puff Girls, she could blow ice from her mouth to make ice rinks in the house! That would be pretty cool.
What inspires you?
I get inspired every time I go into a sweet shop, like one of those traditional sweet shops with the jars on the walls and the scales to weigh out 100grams of delicious goodness. I also get inspired from my friends. Friends are the best inspiration anyone could have!
What is your favorite medium to work with?
I love working with fimo, it's so nice to work with and really relaxing. It's amazing what can be created from that one little block.
Any advise on how or where to start a business or shop?
My advise would be to just do it!!! Whatever you do, whatever your passion, it's so easy to set up and so rewarding!! There's nothing better than people wanting to buy something you have made and put your energy into!
Where can we find you online?
You can find all our delicious sweet treats available at
www.cocopomme.com
!
Instagram
Twitter
Facebook
Pinterest
For 10% off of your order at Cocopomme, use the code KITSCHBLOG.
If you're interested in my review of a few Cocopomme pieces, read it
here
!
A bit thank you so much to Kate for this interview!

♥ Kitsch Cait ♥ Facebook ♥ Bloglovin' ♥ Twitter ♥ Instagram ♥ Pinterest ♥ Tumblr ♥